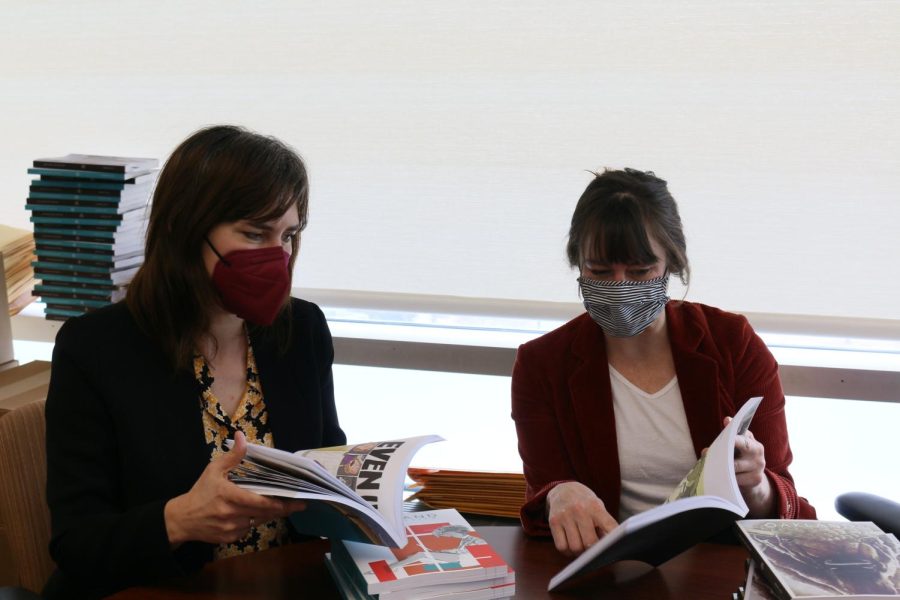 UO International Undergraduate Literary Arts Review – The Oakland Post
Now in its seventh volume, UO's international undergraduate literary arts journal The Oakland Arts Review (OAR) continues to progress – providing students with professional writing and publishing experience and connecting the university to the wider world of contemporary literature.
With the the average lifespan of literary journals being one to three issuesOAR has persevered in a crowded market space by diligently pursuing and publishing quality poetry, fiction, non-fiction, and visual art from undergraduate students around the world.
The creation of the magazine which is now synonymous with UO Creative Writing Programcame following a discussion between Professor Alison Powell then director of the creative writing program Annie Gilson.
"I was talking with Professor Gilson about the kinds of activities I might want to do outside of teaching and my own writing," Powell said. "…I told him I had this idea to do an undergraduate literary magazine, but not just for Oakland, it would be a national magazine. She was like, 'I think that's great.' And then we went from there.
With this green light from the direction of the creative writing program, Powell began recruiting students to help form the original incarnation of OAR as a student organization. This editorial group started putting things in place in 2015 and laid much of the foundation that allows the journal to operate successfully today.
"I had a student at the time, Lindsay Olson, who was a creative writing major, an amazing non-fiction writer, and that was really her," Powell said. "She put in a tremendous amount of work and effort… We had a core group of about six students… We had no idea what we were doing and it was really inefficient, but we got started the first number."
With this initial success and the pleasure of collecting the first issues, it was eventually decided that the OAR would be best suited as something incorporated directly into the course offerings of the creative writing program.
"It became clear that the project was going to be too heavy to sustain just with overtime here and there," Powell said. "…We realized that what would really work would be if a faculty member taught the class…It ended up working really well and made me wonder why there aren't more classes like this one in English departments, because so many students are really interested in literature writing and publishing."
One student who has taken advantage of the opportunities offered by the journal is current OAR editor Malaena Caldwell. Double majoring in French language and literature and creative writing with a specialization in non-fiction, Caldwell is one of the brightest and hardest-working students in OU's Class of 2022. A conversation with Gilson convinced her that OAR was the right fit for her.
"I was excited for the class [and] getting that experience under my belt for hopefully an internship down the line," Caldwell said. "I just entered graduate school where they have a literary journal. And so it will be nice to have that [OAR] future experience.
Caldwell is currently a semi-finalist for the Fulbright Scholarship and will continue his training by going first to France to teach and then to Oklahoma State University to pursue an MFA studying creative non-fiction. As she leaves OU, Caldwell fondly reflects on her time working to produce OAR.
"It's organized chaos," Caldwell said. "…The whole process of talking to authors, emailing them, and then receiving their work…I love that process. It was great fun reading everyone's plays. It helped me to understand where the other artists are [creatively] at that time… It was a different experience to talk about art that wasn't necessarily published and I appreciate that.
Each issue of OAR has been curated by a team of students and faculty. A professor teaches the course and serves as the de facto editor, leading editorial meetings and structuring the course to educate students about editing and the publishing process. Students taking the course are given editorial responsibilities and can vote for the creative pieces they think are best suited for this volume of OAR.
Powell has been a constant presence since OAR's inception either as a faculty member directing the journal or as an advisor in charge of page design. Creative Writing Program Director Jeff Chapman and Professor Susan McCarty were also faculty members at the helm of the journal.
McCarty is the current faculty member who directs the journal. She sees OAR not only providing valuable professional experience for students, but also a space for the current generation of undergraduate artists to have their voices heard.
"As a writer, it's a way of establishing those communities," McCarty said. "Sometimes young writers work, they feel isolated and work alone. Being accepted into a journal and being published is a way for them to no longer be alone. It's a way for them to be in a space of other like-minded people… It's really important for students to have those special places where they can express what matters to them, what they have fear, what are their anxieties. This generation has a weight on them… They have responsibilities and problems that I find unprecedented. For them, having a journal to express these fears and anxieties is really important.
Aside from what OAR offers students at OU and beyond, having a well-curated, professionally produced literary arts journal also sets Oakland University apart from other public universities. from the country.
"There's this whole community of literary journals out there," McCarty said. "…There are coalitions of writers and readers everywhere and Oakland Arts Review puts [OU] in this conversation where contemporary writing is done… It makes Oakland University visible in the space of contemporary literature in a way that we otherwise wouldn't.
Going forward, the greatest threat to the longevity of the OAR will be providing funds for students and faculty to continue producing the journal. Given the financial measures taken by the university in response to the drop in registrations caused by COVID-19there is a chance that the 2022-2023 academic year will be the last for OU's International Undergraduate Literary Arts Review.
As we approach next year, Powell will return to the helm as head of the journal's faculty. After seven years of faculty and students successfully fine-tuning OAR's infrastructure and procedures, she believes the time has come for university leadership to commit to making the journal a hallmark. more permanent than the OU.
"I think it would be really smart for the university to continue funding this journal and stop requiring annual faculty submissions," Powell said. "If they could commit to funding it every year, we could just keep doing it. We can focus our energy not on raising funds, but on publicizing the journal and getting better submissions… It seems really short-sighted if the university let [OAR] fail."
Editor's note: For complete transparency, Jeff Thomas is a former poetry editor for The Oakland Arts Review.