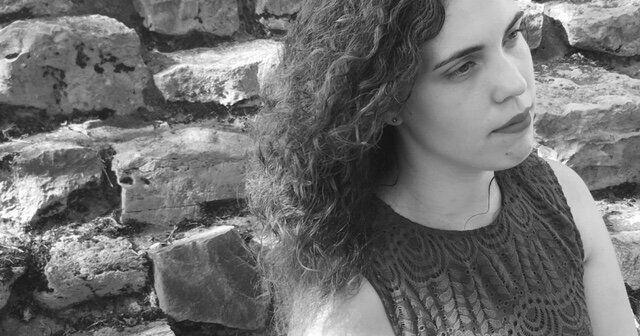 UC Graduate Teaching Assistant on Poetry and the Value of the Literary Arts | News
When you walk into a Zoom conference with Cara Dees, she immediately offers insight into her love for writing and literature right through her living room. As she excuses herself to make herself a cup of coffee, she reveals at least three shelves filled from bottom to top with books, ranging from tall fantasies to her own collection of poetry. For Dees, that love of literature has been around for as long as she can remember.
Dees grew up in a rural area and often found herself turning to books and stories for entertainment. Her childhood was spent researching as many classic literature novels as she could find in her local library. After a while, however, Dees found herself dreaming up her own stories and tales to tell. What she thought was just a childhood love for storytelling would eventually blossom into Dees becoming a doctoral candidate at the University of Cincinnati (UC) for creative writing.
When asked about her favorite authors and poets, her eyes widened. "I can never answer that question," she exclaims. Yet she immediately has a roughly three-minute list of writers she returns to again and again: Emily Dickinson, Brigit Pegeen Kelly, Monica Youn, Terrance Hayes, and Natasha Trethewey are just a few of the names on her long list.
"My go-to answer is Emily Dickinson, I just think she's a writer I can go to and I always feel shocked in the best way possible," Dees said. "She does things with a language that I don't expect."
Dees is as eloquent and delicately spoken in person as she is in her writing. She thinks carefully before answering questions and you can feel the care she takes in her craft. Dees' poetry often comes from a nostalgic mindset of how one can sustain a moment.
Her first collection of poetry, "Exorcism Lessons in the Heartland," came from a place of remembrance and grief. Dees' mother died of terminal cancer in 2012 while in graduate school at Vanderbilt.
"I was learning to write poetry and thinking about what poetry was, I was also writing poetry that dealt with illness while I was writing poetry about my mother," Dees said. "That kind of early warning you do when someone has a terminal illness where you try to figure out what the world will be like when they're not around."
Although none of the poetry she wrote during her undergraduate studies appears in the final collection, she cites this as the basis for her book. Literature and writing have long been ways for Dees to ground herself in the world around her. It is a unique empathic experience to dedicate her time to the literary arts, and Dees feels that she is continually improving through it.
"When I was a kid, literature was really how I dealt with the world and what was happening around me. [It's] really how, in some ways, I feel like my first interaction with language in general," Dees said. "I think literature simply improves our daily lives. It gives us the space to be with ourselves mentally, with others mentally in a way that I don't think any other art form can offer.
His impact with words goes beyond his roles as a writer. While pursuing her doctorate, Dees is also a graduate teaching assistant for UC. Dees has taught courses for higher education in creative writing, poetry, French and composition. At UC, she teaches courses such as "Creative Writing" and "Social Change, Topics in Literature, Health, and Society." Dees' experience with teaching has been nothing but positive; being able to learn from others as you teach them is a unique experience that she greatly values.
"Being with other artists in this way and being able to share what I've learned over the years with people, I don't think there's a replacement for that," Dees said. "I find it very energizing for my own writing and I find it really, really important for my own reading as well. I think it's so cliché, but I feel like I often learn from it.
Lately, Dees has found herself turning to works dealing with ideas of social change and justice. Her upcoming collection of poetry, under the working title "Lacuna," hopes to adopt a more ecofeminist lens to discuss the state of the world today.
Dees strongly believes that literature should be at the crossroads of any significant change enacted in society.
"I think a lot of the time when we historically see this idea that the arts aren't important, it's usually when the arts are most important when they bring people's attention to things to pay attention to. careful," Dees said.
She believes creative writing should discuss crucial topics such as medical rights, racism, feminism, environmental rights and more.
In her "Topics in Literature, Health, and Society" class, Dees introduces students to topics on the AIDS epidemic, racism in medical fields, inequalities and classism in America's health care and more. Dees actively uses the literature and the platform she has created from it to continue to elevate as many change-making voices as possible.
"We need to be able to have students who study science, who are well versed in cultural issues and social issues and who are able to talk about and think about them in a compassionate way and in a way that really takes into account the complexity of the human experience is," Dees said. "I think literature does that in a unique way."
After completing his doctorate, Dees plans to continue devoting his time to "Lacuna" while continuing to observe the world around him. Dees has worked hard to move on from her own grief over losing her mother, and this growth has led her to create spaces in the world where others experiencing similar grief can turn when needed. .
"I think it's easy to think of compassion or sympathy as things that aren't hard work. But they are and they are in training to think about them a lot," Dees said. "I think literature offers that to everyone."