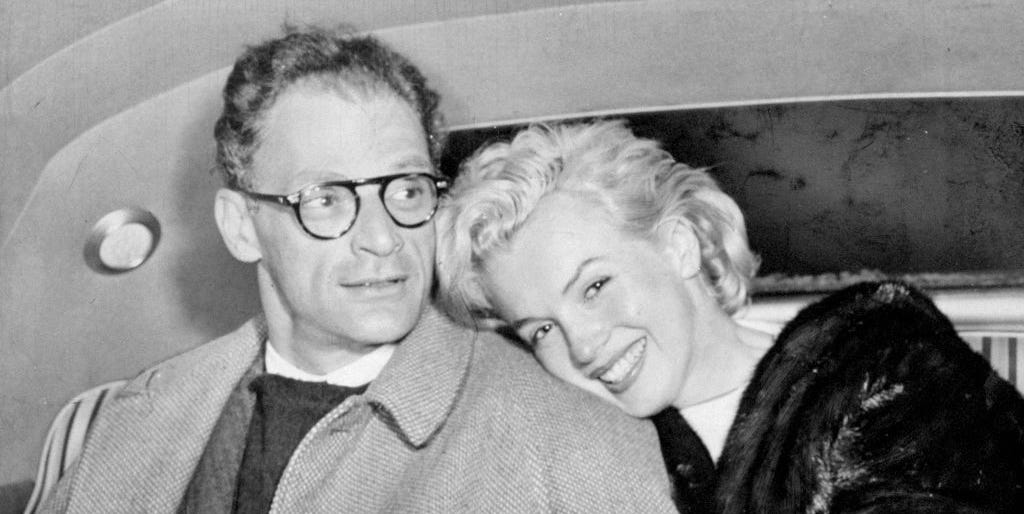 The True Story of Arthur Miller's Relationship With Marilyn Monroe
Marilyn Monroe's life story is making headlines again thanks to new biopic Blondstarring Ana De Armas as the Hollywood bombshell.
Blond, written and directed by Andrew Dominik, was adapted from the 2000 novel of the same name by Joyce Carol Oates, and the film premiered at the 2022 Venice Film Festival, receiving a 14-minute standing ovation.
Some reviews weren't as rave, given the graphic focus on the harrowing and traumatic abuse Monroe – née Norma Jeane Mortenson – endured throughout her life in the film, not to mention the fact that the sheer fiction is continually woven into the narrative. However, some parts of Monroe's life are set in stone, like her three marriages.
Her first husband, whom she married when she was 16, was James Dougherty, a factory worker. Her second husband was baseball star Joe DiMaggio (played by Bobby Cannavale in the film). The relationship was abusive and their marriage ended a year later in 1955. But arguably her best-known romance was with Arthur Miller, the playwright, which lasted for six years until 1961. They were initially seen as a strange couple; the literary great and her glamorous movie star partner, but it ended up being one of the biggest love affairs of her life.
How did the romance start?
In the early 1950s, Arthur Miller (played by Adrien Brody in Blond) was married to Mary Slattery, and Monroe was at the height of her stardom, appearing in niagara and Men prefer blondes. According to Donald Spoto in Marilyn Monroe: biographyMiller and Monroe were first introduced around this time by director Elia Kazan.
In 1955, the couple was in the throes of a full-fledged affair, which became serious after their separation from their spouses. However, in McCarthy's witch hunt against Communists in the United States, the FBI was investigating Miller and reporting him to the House Un-American Activities Committee, which led to him being subpoenaed. One gossip columnist called Monroe "a darling of the left-leaning intelligentsia, several of whom are listed as red fronters." This infuriated studio bosses, who warned Monroe that she had to end the relationship, but she refused. The FBI also opened a file on Monroe.
Meanwhile, Monroe, through a series of letters, revealed her true feelings of love for Miller and explained why she chose to stand by his side. As recorded in Fragments: poems, intimate notes, Letters she wrote: "I am so concerned about Arthur's protection. I love him – and he is the only person – human being I have ever known that I can love not only as a man who practically pulls me out of my senses – but he is the only person – as than any other human being who I trust as much as I trust myself.
According The mirror, Miller's biographer, Professor Bigsby, said: "He was absolutely bowled over by her. It was definitely a love story. One of his love letters was an almost teenage outpouring of love."
On June 29, 1956, the couple snuck into the Westchester County Courthouse in White Plains, New York, where they were married in a quick four-minute civil ceremony by Judge Seymour Rabinowitz.
The full Jewish wedding, for which Monroe converted, took place a few days later, on July 1, at Miller's agent, Kay Brown's home. Monroe, who never knew who her real father was, was given away by her acting teacher, Lee Strasberg, and the couple gave each other wedding rings that read "Now is forever." Variety later celebrates the event with a story titled: "Egghead Weds Hourglass".
However, an intense filming schedule and health issues began to take their toll on Monroe. She had a miscarriage the same year, then, after taking 18 months off to focus on her relationship with Miller, she suffered an ectopic pregnancy in 1957 and miscarried again. In Marilyn: passion and paradoxLois Banner describes how, around this time, Monroe was hospitalized briefly after taking an overdose of barbiturates.
Miller and Monroe did what many considered dangerous and mixed business with pleasure. Miller ended up writing or rewriting a number of Monroe productions, such as the 1960s Make lovee and the last film in which she appeared, 1961 The misfits.
The disappearance of their love story
The cracks in their marriage were beginning to show, and on the set of Make love, Monroe reportedly had an affair with her co-star, Yves Montand. During this time, Miller had apparently struck up a relationship with photographer Inge Morath, whom he later married and had children with.
The writing was on the wall when, in a scene straight out of a Hollywood movie, and according to The story today, Monroe found Miller's notebook open on a table. Like seeing a car accident, she was unable to look away: "She discovered that he was disappointed in her, feared that his own creativity was threatened by this miserable, dependent, unpredictable wreck he had married and seriously regretted the union. Marilyn told friends that he also wrote: "The only one I will ever love is my daughter". vanity lounge later said, "One of her greatest fears, of disappointing those she loved, had come true."
The couple officially separated after the filming of The misfits and obtained a Mexican divorce – a divorce obtained in Mexico rather than the United States, because it was easier, faster and cheaper, and could be done away from the prying lens of paparazzi cameras.
Monroe died shortly thereafter, aged 36, of a barbiturate overdose on August 5, 1962. Miller did not attend her funeral. In an essay written by Miller at the time – according to The Independent – he explained why: "Instead of going to the funeral to have my picture taken, I decided to stay at home and let the mourners finish the mockery… It was destroyed by a lot of things and some of those things are you. And some of those things destroy you. Destroy you now. Now that you're standing there, crying and gaping, glad it's not you who walks into the earth, glad it's that lovely girl you finally killed. He died aged 89 in 2005.
Blond streams on Netflix starting September 23.