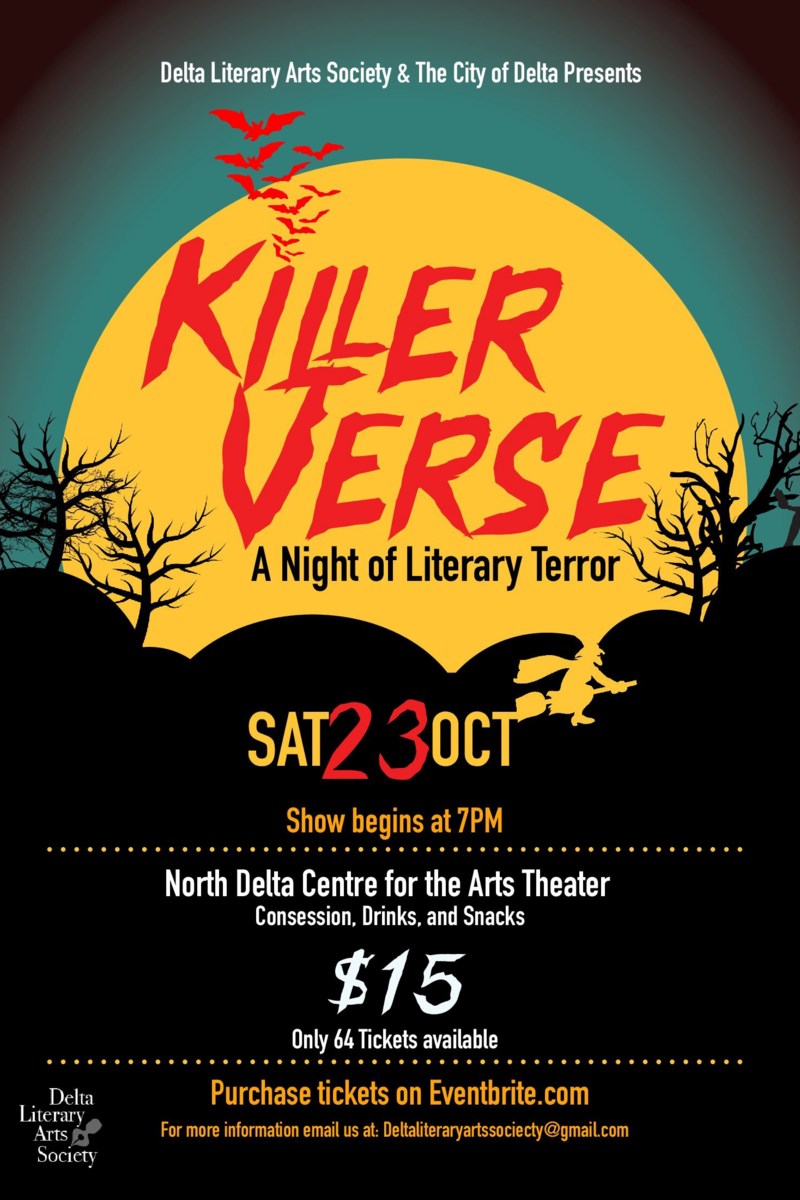 The Delta Literary Arts Society presents spooky Halloween-themed poetry and short story readings
'Killer Verse: A Night of Literary Terror' will have you shaking in your seat
Just one month after its inception, the Delta Literary Arts Society (DLAS) is determined to scare Delta with its next spooky reading at the North Delta Center for the Arts.
The group will present chilling poems and short stories from Canadian horror writers as well as local actors on October 23 at their first-ever event, Killer Verse: A Night of Literary Terror.
"It will be a mixture of theater and written works," explains Barbara Baydala, member of the DLAS board of directors.
Each reading, there will be on-stage mime-like performances that accompany the storyline, all of which will be surrounded by a spooky, "Halloween-y" vibe that includes spooky decor, dim lights, and zombie ushers.
"I'm really looking forward to our first performance as a group. We only met as a whole group on Zoom, so I'm really looking forward to regaining the energy to bring this group of writers together in one space," says Baydala.
DLAS President Angela Rebrec is warning those planning to attend the party to leave their children at home, as they have "bolstered the scary factor for this event," the press release read.
However, expect not-so-little children to volunteer at Burnsview Secondary as actors and ushers, Baydala says.
Given the society formed just a month ago, they are already in motion with their goal of promoting and celebrating the literary arts in Delta.
And they are far from stopping now.
The local writers' group plans to hold another holiday-themed event closer to Christmas and hold a series of different creative writing and reading workshops in early 2022.
If you want to catch Killer Verse from 7-9 p.m. on October 23, tickets are $15 while they last and can be purchased at Eventbrite or by emailing [email protected]
And to stay up to date with what the Delta Literary Arts Society is up to, check them out on Facebook and Instagram at @DeltaLiteraryArtsSociety.