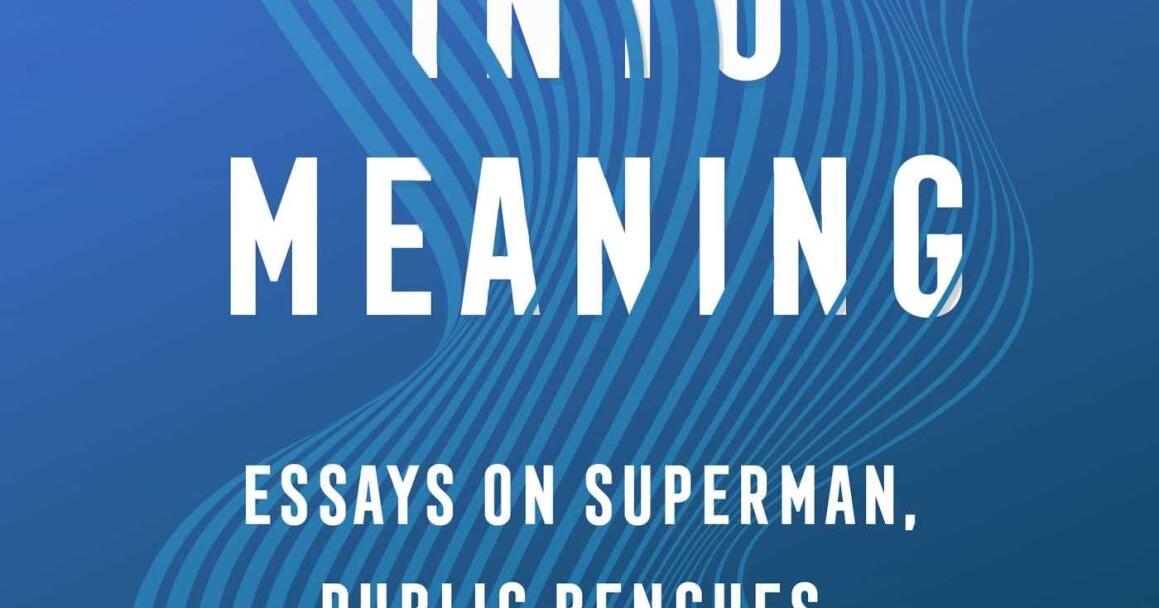 Review: 'Escape Into Meaning' a masterful survey of literary arts, film and more | book reviews
ESCAPE IN THE SENSE. By Evan Puschak. Earphone books. 272 pages. $27.
Going broad and deep, journalist Evan Puschak reflects on a remarkable range of artistic, political, and philosophical territory in his first article, aptly titled "Escape Into Meaning."
And it does so incisively, offering unexpected connections and unusually insightful observations on subjects that are both noble and deceptively mundane.
Puschak, a former MSNBC media editor and host of the Discovery Channel's "Seeker Daily," is now best known for his YouTube channel "The NerdWriter," a weekly video essay series "that puts ideas to work."
Here, these ideas burst and crackle.
Whether dissecting how American education often works against its own design, assessing the dynamics of group friendships and shared identities, or finding rich thematic confluences in the arts , the 33-year-old American residing in Spain is a generally incisive culture. critic who wears his enthusiasms on his sleeve – in an entertaining way. He also has serious points to make.
Who else would lend (legitimate) intellectual weight to Jerry Seinfeld's stand-up comedy, or parse the philosophical and cinematic virtues of "Blade Runner" and "Lord of the Rings" without bringing up a fan's whimsical musings? boy?
If it occasionally betrays a tendency to spring, picking a bone with such minor digressions would be like worrying about a stunted metatarsal.
His excellent essay on Ralph Waldo Emerson is the springboard for appreciating the power of articulation: "Someone formulates something perfectly and an idea that was a fog in the background of your mind suddenly solidifies" and comes to life. , a matter of "taking the most vague, the most universal reflections and refining them to perfection."
For Puschak, the literary arts are full of wizards of such articulation.
"Everyone has their tricks, their material, but all have the same goal: to say something true, to find a thought so passionate and so alive that… it has its own architecture, and adorns nature with a new thing."
In "Thinking in Works", Puschak questions whether an artist's work can itself be a work of art. Discussing the poet William Butler Yates, he concludes that it is possible: "Yeats proves it without a doubt, I think. While each poem has a completeness of its own, the overall unity is its ultimate expression.
But the former film student, excused from an excessive attachment to the work of Quentin Tarantino, is also in love with cinema. Of particular fascination is how the Cyberpunk novels of the 1980s, notably William Gibson's "Neuromancer," introduced a radically new aesthetic to movies.
"Extraordinary films transport you to their worlds, but with Ridley Scott's 'Blade Runner' (1982), it was the opposite: the film world transported me."
On more earthly matters, Puschak addresses the dilemma of decision-making when esteemed experts express honest disagreement, the need to regularly reassess one's beliefs, and our growing ideological divide:
"Decades pass without meaningful updates to policies designed for a world long gone. The status quo is becoming more entrenched and the issue is bogged down in the mud of partisanship. After a while, staying the course can become riskier than trying something different.
He lifts the heavy stuff with a celebration of "the historical reconstruction of the metropolis" seen from an urban park bench – what Balzac called "the gastronomy of the eye" – an essay that evolves into a thought experiment on the town planning on a human scale.
Puschak sometimes reads like a young Oliver Sacks – no small compliment – ​​and his musings can be just as elegant and masterful. He probes, questions and digests with a skill so assured that it belies his own insecurities and uncertain opinions. It is a voice to be attended to.
Critical Bill Thompson is a Charleston-based writer.