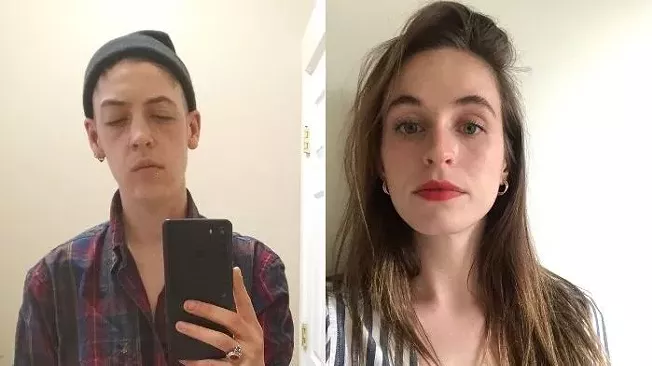 City Books Announces Writers-in-Residence in Fall 2021 | Literary arts | Pittsburgh
Dade Lemanski is working on a book on "Polish folk magic, fathers (will die) and anti-blackness among white punks". Kelsey Swintek is working on her first collection of essays. The two will be honing their respective plans and practices as Writers-in-Residence in the fall of 2021 at North Side City Books.
The residency, which begins July 1 and ends November 30, offers time, space and support for local writers to develop new or other existing projects.
The Fall 2021 Residency Cohort will be the first to require 3-5 hours of in-store writing during business hours since the start of the program in Spring 2020. Previously due to security measures COVID-19 pandemic, City Books' writers in residence were able to complete their residencies virtually.
"The closure of the bookstore last year forced us to broaden the definition of 'resident' and 'space' in ways we didn't initially envision," says Arlan Hess, owner of City Books. "During the lockdown, instead of forcing residents to come from the north side, we met them where they were at home and on their screens."
Before being hired at Pittsburgh City Paper, I was a Virtual Writer-in-Residence at City Books for Fall 2020. Current residents Alona Williams and Marsha Timblin are also virtual for their Spring 2021 residency. Williams and Timblin's residency period ends Wednesday, June 30 , giving way to Swintek and Lemanski.
In addition to working on his collection of essays, Swintek also publishes Lucky Rigatoni, a weekly newsletter of reflections, photographs and 'occasional epiphanies', and his writings have appeared in Hobart and Nowhere.
Lemanski writes about whiteness and white supremacy, the Appalachians, Jewish identity and anti-Semitism through a "historical trans (sexual) lens". Michigan Quarterly Review, as good as DIAGRAM, The voice of the village, and In geveb: a journal of Yiddish studies.
During the residency, both writers will have access to the City Books office and receive a $ 500 stipend, 40% bookstore discounts, and curation opportunities.
In addition to their other residency duties, the writers will also be available on November 26 for Small Business Saturday as one of their final residency activities.