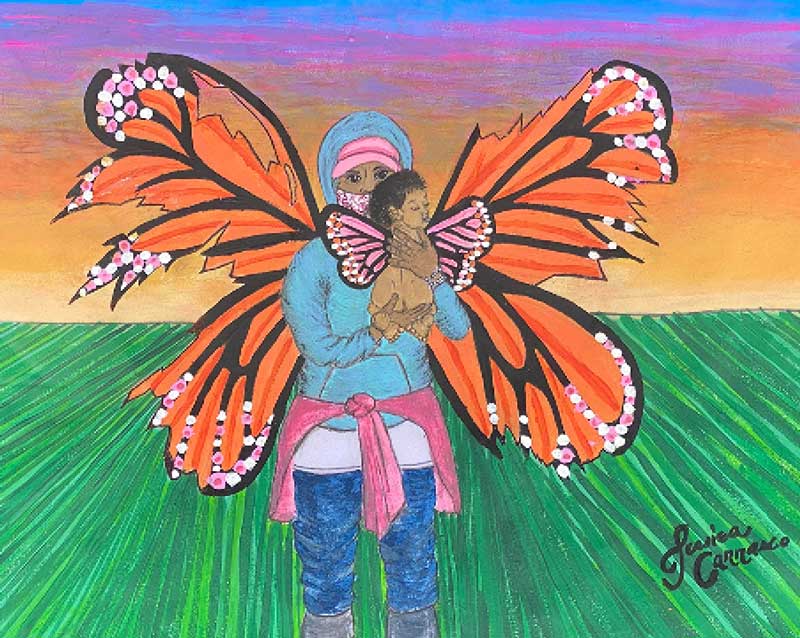 Cabrillo Watsonville Center Celebrates Second Edition of Literary Arts Review
WATSONVILLE—The second edition of a literature and arts journal created by Cabrillo College English students will soon be published, and the public is invited to celebrate with students and contributors this Friday.
Journal Xinachtli, or Journal X, features poetry, short stories, essays and art. It is compiled by a 1B English class at the school's Watsonville Center and emphasizes issues of social justice as well as cultural identity and pride.
Writer, English teacher, and Watsonville resident Victoria M. Bañales had noticed a disparity in creative writing offerings at Cabrillo and decided to create something specifically for the satellite location.
"We have so many opportunities on the Aptos campus," Bañales said. "All creative writing classes are at Aptos…you can take poetry, fiction, anything. The Porter Gulch Review, the student newspaper, The Writing Awards… There's a lot of cool stuff in Aptos, but nothing here. There was real inequity, and I wanted to change that.
Journal X will be published and distributed this summer, but an event will take place this Friday evening to celebrate the end of the semester. A group of contributors will read their work and a short film by local artist and Cabrillo student, Kalie Granier, will be screened.
Initially, Bañales approached David Sullivan, whose own English 1B class had been setting up the Porter Gulch Review for decades, to help her create Journal X. However, she eventually decided to take on the project herself. -same.
"My brother was like, 'Why don't you do it?'" Bañales said. "At first I was like, 'Oh my God, I don't even know where to start.' So I chose David's brain and asked others for advice… slowly it all fell into place.
Rather than students reading previously published texts, Bañales' class functions as an editorial board, sifting through hundreds of submissions and deciding what will be included. They undertake a literary analysis of the works and interview the authors before writing the review.
"A lot of them have never done creative writing," Bañales said. "But at the end of the course, they start to feel more confident. I have them make about 99.9% of the decisions. They are very good at what they do.
Bañales said she considered from the beginning to them the paper around social justice. Topics such as immigration, LGBTQ+ rights, race, diversity, gentrification, police brutality and more are explored, along with cultural identity and pride. However, there were a handful of submissions that were "too good" for students to pass up.
"It gives it a certain levity because some of the social justice issues can be heavy," she said.
Journal X's range increases. Writers and artists from as far away as Chicago and Mexico submitted for publication this year.
Jessica Carrasco, artist from Watsonville created the cover of this year's newspaper. Her piece, "Wings Cut," was also shortlisted for the magazine's Best Art Award, for which she will be recognized on Friday.
Rebecca Garcia, Watsonville City Council member and writer, will also be featured. Garcia said she started writing memoirs for her grandchildren six years ago. Last year, she wrote "Am I American," an article inspired by Pulitzer Prize-winning journalist José Antonio Vargas.
Garcia explained his experience as a member of Journal X, from interviewing a student to submitting his work. She praised the project for providing higher education opportunities for local students.
"Writing is artistic, but it can also be used to heal," Garcia said. "In higher education, it's academic. As a teacher, I have seen so many of my students mystified by writing… Whether they are writing for art or writing for healing, I hope Journal X will motivate them.
The Journal X celebration will take place Friday from 6-8 p.m. at the Cabrillo Watsonville Center, 318 Union St., Room A150. Face masks will be required.
---
For more information on Journal X and the Friday event, visit their website. You can also contact Bañales directly at [email protected].