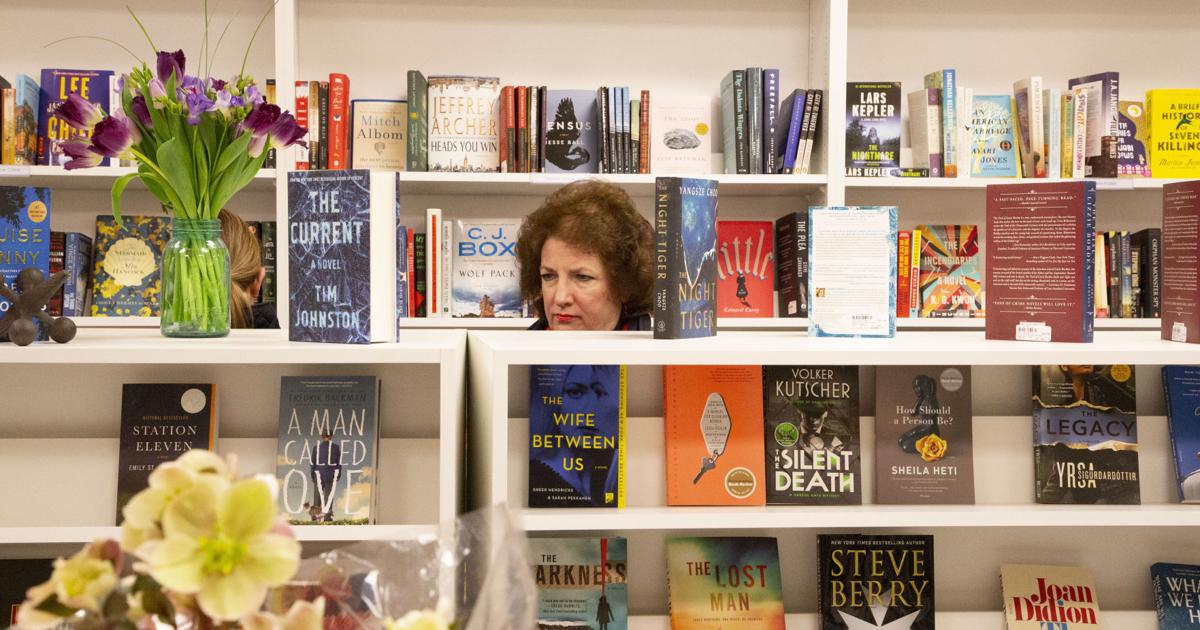 Beyond a Bookstore: Literary Arts for All Ages at the Open Book | Lifestyles
[ad_1]
Opened in March of this year, The Open Book in Old Town Warrenton has already become for many one of their favorite spots on Main Street. The bookstore caters to the needs of avid readers, curious browsers, and those who enjoy attending special events. Evidenced by the popularity and success of The Open Book, the literary arts are appreciated in Fauquier County.
The vision of the three bookstore owners, Cammie Fuller, Chris Granger and Rachel Sirene has become a reality with over 7,000 titles on display decoratively throughout the store. Colorful soft-backed hardback books artistically adorn shelves with titles that are both familiar and new.
Among the adorable children's books is "Bruno the standing cat"" by Nadine Robert and illustrated by Jean Jullien. Nearby is "Ellie, Engineer: The Next Level" by Jackson Pearce. "Harry Potter The Complete Series by JK Rowling" is front and center near the entrance, and around the corner is Margaret Atwood's 'The Handmaid's Tale'." "The lost art of handwriting" by Brenna Jordan is in the middle of the store, barely visible among the many books. Titles that are not on the shelves can be specially ordered.
As well as offering what appears to be a whole world of books, events are popular and there is something for all ages at The Open Book. Children's Story Time takes place every Tuesday and Friday at 11 a.m., full of stories, songs and games. Pajama Story Time is every Saturday at 5:30 pm Kids love to be read and as Jacqueline Kennedy Onassis said, "There are many little ways to expand your child's world. The love of books is best of all.
Book clubs for school-aged children are held at The Open Book from 5 p.m. to 6 p.m. Elementary students get together on the first Tuesday under the name "Warrenton Mice Book Club". On October 1, "Crumbled: The Misadventures of Nobbin Swill" by Lisa Harkrader will be discussed by students in Grades 1 to 5.
College reading clubs meet on the second Tuesday of the month and high school students attend on the fourth Tuesday. An adult book club is held the third Wednesday of each month from 6 to 7:30 pm The next new adult book will be discussed on October 16 – "Maze of Spirits" by Carlos Ruiz Zafon.
"I was delighted to have heard about the Adult Book Club," said Anita Sherman, Warrenton resident (and Times Community Editor), who came to the first when they discussed " The Book Woman of Troublesome Creek "by Kim Michelle Richardson. She said, "It's so stimulating to discuss titles that you might not have picked otherwise… lots of Indie Booksellers Choice Awards… this bookstore is such a gift for the community. "
Classes are held for writers of all genres on the third Tuesday of each month at The Open Book. Evening queues include advice on specific writing topics, discussions, writing prompts, moments for sharing and criticism.
Upcoming book talks are by Erin Clabough, author of "Second Nature: How Parents Can Use Neuroscience to Help Children Build Empathy, Creativity, and Self-Control "on Friday, September 27 from 6:30 to 7:30 p.m. and by Kara Arundel, author of" Raising America's Zoo "on October 19 from 11 am at noon.
A "Bookish Costume Contest" will take place on Thursday, October 31 to celebrate Halloween from 4 pm to 6 pm. Everyone is welcome to come dressed as their favorite book character.
Co-owner Granger said with enthusiasm: "We are well received here. Warrenton is definitely a literary community with a lot of active readers and writers.
The Open Book is located at 104 Main Street, Warrenton and is open seven days a week. Weekday hours start at 10 a.m. and close at 6 p.m. except Friday evening with extended hours until 9 p.m. Saturday Le Livre Ouvert welcomes customers from 9 a.m. to 6 p.m. and Sunday from 12 p.m. to 5 p.m.
For more information, simply stop by The Open Book, visit www.oldtownopenbook.com or call 540-878-5358. Many events are also posted on Facebook, Twitter and Instagram.
The monthly column "The Arts Lady" highlights local performing, visual and literary arts. Ms. Smyers teaches in the Arts Management Program at George Mason University and is the Co-Executive Director of the Fauquier Community Theater. Contact her at 800-754-4507 or at [email protected]
[ad_2]