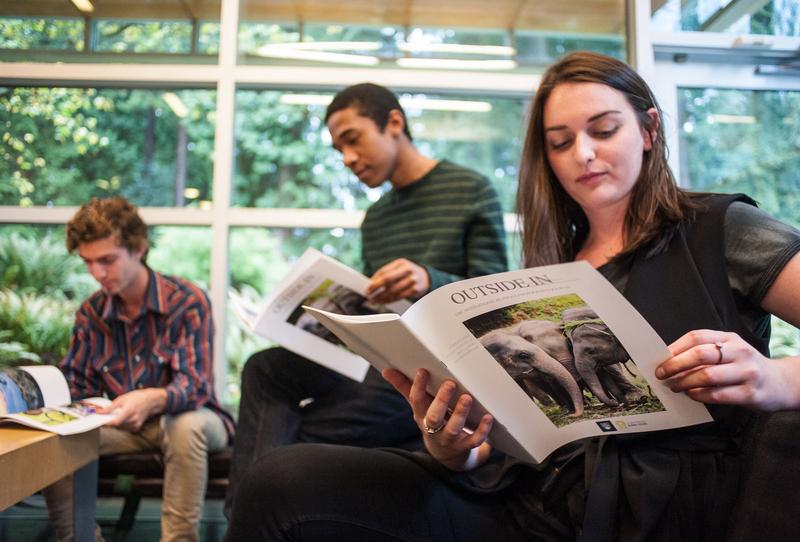 A Student's Guide to Creative Undergraduate Journals at UBC
[ad_1]
Putting your work in a creative journal is a great way to show that your degree has minimal artistic merit! Kosta Prodanovic dossier
It's 4 a.m., you've got your fourth cup of coffee, and you've officially adopted the stereotype of the tortured artist. Your wrist feels like it's about to stop working on this ProCreate artwork for the past seven hours. But I do not speak at all from experience …
Here has The Ubyssey, we can't quite demand financial compensation for your creative trauma on your behalf, but we can give you the best thing to do: an opportunity to have your art judged by someone other than your mother!
I am joking. Type of.
Getting your work published in a journal is a great way for you to gain recognition for your work. Your friends at The Ubyssey have taken it upon themselves to assist you in this process by compiling a nearly comprehensive guide to all UBC affiliate journals that are ready to accept undergraduate work.
How this guide works
All of these publications were found by searching Google for "UBC Journal" and browsing departmental websites for internal journal mentions. Each post's descriptions are based on information from their websites, social media, and email statements requested by The Ubyssey.
If you know of any active creative journals affiliated with UBC but not included here, please let us know! Please note that all journals in this guide are listed in alphabetical order. Some of these journals accept both academic and creative work. We will also have a companion guide for strictly academic journals that you can consult soon!
If you want to start your own journal, check out this to guide from the UBC library. Starting your own journal would be a great way to contribute to the creative world of UBC.
Pre-submission checklist
Before we get into the good stuff, let's cover a few basics. If you find a journal that interests you, be sure to read its "About Us" page or its Guidelines page to make sure your work falls within the scope of that journal. Your manuscript or submission should also be carefully formatted according to their submission guidelines. Keep in mind that most journals require some sort of additional documentation with your submission, such as a cover letter, author bio, etc.
Also, be sure to follow their submission policies! Some reviews go not accept work that has also been submitted to another journal for review. Write down the deadlines in your calendar or in your reminders app to make sure you don't forget them. It is also handy to write down the contact details of their editorial board to ask them any questions.
The range of acceptable submissions will vary depending on the journal of interest, so be sure to do your own due diligence to understand the different types.
Now for what you are really here for: the publications. Let's get into it!
Journals that publish both academic and creative work
Beacon: Journal of Media Studies
tag is an annual peer-reviewed and faculty-reviewed multimedia journal that publishes the "works of current UBC undergraduate students who explore and study the subject of media."
The editor-in-chief of tag, Matthew Asunción, in an emailed statement to The Ubyssey, explained that "as a journal of media studies, [they] cover a wide range of media, including media theory, media analysis (film analysis, new media analysis, art reviews, information policy research, journalism research), as well as creative works (art, prose, photography and new media / mixed mixes). "Asunción writes frequently for The Ubyssey 's news and features sections.
Asunción also said that the newspaper is in contact with The statuary of the garden and the Undergraduate Journal of Art History and Visual Culture "Ensuring that students are connected to the journal that can best support their work and their own growth as academics and creators".
You do not need to be enrolled in the Media Studies program to submit your work. All undergraduates from the Vancouver and Okanagan campuses are welcome. Preference is not given to a particular faculty but rather to articles that fall within the scope of the journal.
If you are interested in submitting a manuscript, be sure to check out their submission guidelines first. The next call for applications will take place from Friday, October 19 to January 7, 2022. Tag'the last volume, Tome ii, is also available on their website with their first volume.
Likewise, if you wish to join the editorial or editorial team, the usual recruitment period for new collaborators is from mid-September to the end of October.
The Garden Statuary: UBC English Undergraduate Journal
Through their website, "The statuary of the garden (TGS) is UBC's undergraduate literary journal, operated and peer reviewed by [their editorial board composed of] UBC undergraduate students. They publish both creative and scholarly work, including essays on literature and language studies, fiction, poetry, non-fiction, plays, visual arts, photography, musical recordings and music. short films.
They are part of the English Students Association and receive support and feedback from the English Faculty Advisory Board.
They accept submissions twice a year for their winter and spring issues, which are published online in December and April respectively. They are also releasing a print year-end issue in April that includes all of the literary works from that school year's winter and spring issues.
All UBC undergraduates on both campuses are eligible to submit their work. TGS particularly encourages submissions from "traditionally under-represented voices, including those of Indigenous peoples, people of color, LGBTQIA + people, people from low-income backgrounds, people with neurodiverse and people with disabilities."
If you are interested in submitting your work, be sure to check out their submission guidelines and browse their previous issues for inspiration.
Please note that the deadline for their next winter issue has already passed. Via a declaration sent by email to The Ubyssey, Editors Colby Payne and Avanna Dhunna encouraged students interested in contributing to the journal to submit their work by Friday, February 25, 2022 at 11:59 p.m. ET.
If you want to join their team, they "typically hire executives at some point during the summer, then hire illustrators and editors in September." Regular updates are published on their social networks.
Undergraduate Journal of Art History and Visual Culture
According to their website, "The Undergraduate Journal of Art History and Visual Culture (UJAH) is an annual student journal published by the [UBC] Department of Art History, Visual Art and Theory (AHVA). " They focus specifically on the publication of "undergraduate research, works of art and writings in the field of art history and visual culture".
They welcome applications from all undergraduates, regardless of major, for their editorial team each year at the end of September.
Their standard submission period for academic papers, reviews, and illustrations for their annual print journal is November. Their print publication is released in early April alongside the annual Undergraduate Art History Symposium.
If you are interested in submitting your work to UJAH, be sure to check out their submission guidelines, articles from past conferences and previous issues. The deadline for this year's submission period was November 28, 2021.
Exclusively creative journals
According to their website, "PRISM International is a quarterly magazine [whose] mandate is to publish the best contemporary writings and translations from Canada and around the world. They publish a variety of literary works, including fiction, poetry, creative non-fiction, theater and translation.
PRISM accepts submissions on an ongoing basis. As their promotions editor Alison Barnett confirmed in an emailed statement to The Ubyssey, "[they] don't discriminate on the basis of credentials. In other words, undergraduates are welcome to submit their work and PRISM readers will not be made aware of the identity of the authors during the review process.
One important exception to this is that they do not accept submissions from current and incoming students and faculty in UBC's Creative Writing program (this includes UBC's optional residency MFA program). This is probably because they are supported by the creative writing department at UBC. Please check their submission guidelines for more details.
If you are interested in joining their staff, they are accepting applications for the UBC CRWR graduate student editorial or editorial staff until December 15, 2021.
Through their website, "decomposition log is a social justice-based literary and multimedia journal committed to conserving the art of marginalized communities. [They] are an internal journal for the Social Justice Institute at the University of British Columbia.
They publish works of fiction, poetry, non-fiction, art and media. Decomp publishes several issues per year and accepts submissions from UBC undergraduates. Preference is not given on the basis of their program or qualifications.
If you are interested in submitting your work, be sure to check out their submission guidelines and their past problems on their website. They are accepting submissions for their next zine, Action as art, until December 15, 2021. Unfortunately, this year's submission deadline has passed.
They do not have a formal recruitment or application process for their essay. If you are interested in joining the break down the team, please contact them directly via E-mail.
Note: The author is, at the time of writing, an editor of decomposition log.
[ad_2]